<![if !supportEmptyParas]> <![endif]>
<![if !supportEmptyParas]> <![endif]>
An Interview with
"Thirukkural Maamani"
Kum. Sindhuja
<![if !supportEmptyParas]> <![endif]>
(It was a great feat indeed, of Kum.Sindhuja, a class VIII student of Ramana Vidya Kendra, Ambattur, Chennai, reciting the 1330 couplets of Thirukkural and reciting in re­sponse to hundred different types of questions put by learned Tamil Pandits. She was thrilled with joy, when her name was announced for the "Thirukkural Maamani" title, among the 45 students who partici­pated in the competition from all over Tamil Nadu. The following interview was taken by Shri V. Sukumar, a close associate of Vivekananda Kendra, when he visited her school and met the school Principal, and the mother of Kum. Sindhuja.)
<![if !supportEmptyParas]> <![endif]>
<![if !supportEmptyParas]> <![endif]>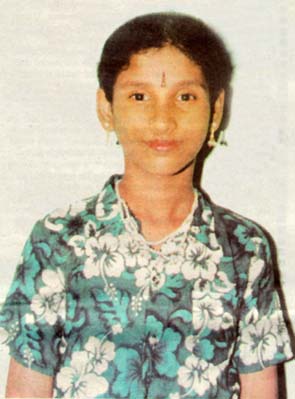 <![if !supportEmptyParas]> <![endif]>
Sukumar:   Namaste, Sindhuja. Congratulations, from Vivekananda Kendra, on your receiving the "Thirukkural Maamani" award. How did you feel when you were given the Award?
Sindhuja:   Namaste, I felt very excited and happy. I was re­membering all those people who helped me get this award.
Sukumar:   Please tell us about your achievements and the awards received by you.
Sindhuja:   There are 133 chapters in Thirukkural. Each chap­ter has 10 Kurals (couplets). A total of 1330 couplets are there in Thirukkural. I was tested by World Thirukkural Centre in hundred different ways and I stood first among the 45 participants from all over Tamil Nadu. I was also conferred "Thirukkural Maamani Award' and "Young Thirukkural Ambassa­dor" enjoining on me a responsibility to promote Thirukkural among people. I also participated in a Thirukkural music competition and stood first and received "Thirukkural Isai Selvar" Award.
Sukumar:   Could you tell us about some of the ways in which you were tested?
Sindhuja:   Reciting 1330 Kurals from beginning to end, telling the number of the Kural when it is recited, reciting the appropriate Kural when its number is told, mean­ing of any Kural, reciting the Kural when the mean­ing is told, reciting the Kural when the last or first word of the Kural is told, and in many other ways.
Sukumar:   What is the source of this competition and how did you get interested in this?
Sindhuja:   Last year the "World Thirukkural Centre" selected 22 students from all over Tamil Nadu and gave them training to recite Thirukkural and they gave performance in different parts of Tamil Nadu. When they visited my area four students gave the programme and my mother and I attended the programme. We were surprised to            see their performance. This year when the same organisation conducted the competition, my mother encouraged me to participate in it.
Sukumar:   What is the source of your inspiration?
Sindhuja     My mother! She took a lot of pain to train me. I re­ceived all support and encouragement from our school teachers, principal and parents.
Sukumar:   What kind of support did you receive from your par­ents?
Sindhuja:   My mother trained me for ten months and from forty five days before the competition, I started practising and spent nine to ten hours a day on preparation. My mother was with me throughout the day and my father gave me all encouragement.
Sukumar:   What kind of encouragement and co‑operation did your school provide?
Sindhuja:   I am very grateful to my school correspondent Smt. Subbulakshmi and Principal Smt. Uma for giving me all help and encouragement. In fact, I was given one month leave for the preparation and I was even ex­empted from appearing for my Class VII final exams.
Sukumar:   What are your other interests?
Sindhuja:   I am interested in painting and in sports. I like throwball. I am learning Carnatic music also.
Sukumar:   Are you looking forward to participating in any other competitions of this kind?
Sindhuja:   As such I have no plans. But I can recite Thiruppugazh, the devotional           compositions of Saint Arunagirinathar, and I have practised recitation of eight           chapters from the Bhagavad Gita. In future if any competition is conducted on the Gita recitation, I may participate in it. I can also give Upanyasa on the Ramayana and on the lives of some great Bhaktas.
Sukumar:   What is your career plan?
Sindhuja:   I would like to become a medical doctor, but my mother's wish is to make me do Ph.D in Tamil litera­ture.
Sukumar:   How are you going to practise the good virtues of Thirukkural in your day‑to‑day life?
Sindhuja:   1. I shall try to have a smiling face while talking to others.
                      2. Give respect to elders.
                      3. Help others.
                      4. Have good friends.
                      5. Love animals.
                      If I become a doctor, I shall reduce the fees for those pa­tients who are able to recite a few Thirukkurals.
Sukumar:   What is your knowledge about Swami Vivekananda?
Sindhuja:   I have read a few books on Swamiji on the eve of his birthday, when Ambattur Vivekananda Vidyalaya con­ducted an elocution on the topic "Faith in Oneself." I spoke and stood first.
Sukumar:   Do you have any particular wish or dream?
Sindhuja:   I wish to meet the Chief Minister of Tamilnadu and recite Thirukkural and win her appreciation for my talents.
Sukumar:   Thank you for giving the interview and best wishes for your future.
<![if !supportEmptyParas]> <![endif]>
<![if !supportEmptyParas]> <![endif]>
See also report in The New Indian Express