<![if !supportEmptyParas]> <![endif]>
<![if !supportEmptyParas]> <![endif]>
IFIH's Letter to the President of India
(The same letter was addressed to the Prime Minister, Shri A. B. Vajpayee, and the Minister for Human Resource Development, Dr. Murli Manohar Joshi.)
<![if !supportEmptyParas]> <![endif]>
<![if !vml]>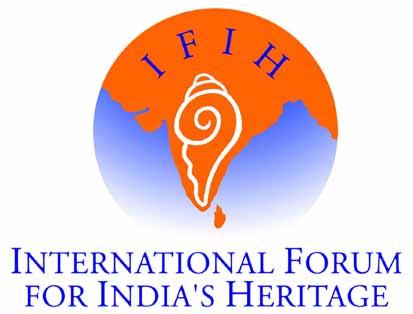 <![endif]>
<![if !supportEmptyParas]> <![endif]>
New Delhi, 1st January 2002
Shri K. R. Narayanan, President of India,
Rashtrapati Bhavan
NEW DELHI – 110 001
<![if !supportEmptyParas]> <![endif]>
Your Excellency,
We are happy to inform you that the International Forum for India's Heritage (IFIH) was launched in New Delhi on 18-19 November 2001 at a convention attended by many of its 152 founder members, who include eminent scholars, professors, educationists, artists, scientists, social workers, environmentalists, thinkers and writers from India and abroad (list attached).
We have come together to promote the timeless and universal values of India's cultural heritage in all fields of national life. Those values are all the more needed in today's world which, confronted with the deliberate neglect of ancient ideals, is increasingly devoid of purpose and in search of enduring and meaningful goals.
Since Independence, Indian culture, despite some well-meaning attempts, has not been strengthened and rejuvenated as many had hoped it would be. Rather, it has been the object of increasing indifference and denigration, though it is perhaps the only one left that offers humankind an alternative to self-destruction through blind materialism or religious fanaticism. We assert the birthright of every Indian man, woman and child to have full access to this cultural heritage in complete freedom — a freedom that our alienating educational system today denies. Only then will India's ancient culture contribute positively to the changes the country must undergo in order to finally achieve its full potential and help guide humanity along its tortuous journey. To rely purely on dominant Western materialistic methods, however effective they may appear at first, can only lead to cultural nihilism and human degeneration. The West's best thinkers themselves have long been warning of this danger.
In today's India, a child goes through his or her whole schooling while remaining largely unaware of the essential values that arose from this land — values such as the divine potential in every human being, self-knowledge and the spirit of inquiry, the oneness and interconnectedness of humankind, respect for pluralism and synthesis. Can anyone deny the crucial relevance of such forward-looking values in today's world ? Yet Indian students who are taught, for example, nineteenth-century Western humanism, remain ignorant of our own vasudhaiva kutumbakam or ekaiva manushi jatih. They come across concepts from Western psychology such as "personality development" without learning of proven yogic techniques. They are told of the need to foster a "scientific temper," but are not shown how the Indian genius was deeply scientific in its quest : thus they are taught arithmetic, but not how zero, the decimal system or the binary notation originated in India ; modern astronomy, but not the cosmic worldview ancient Indians had of an eight-billion-year-old universe ; relativity but not the fluid Indian concept of time ; Darwinian evolution, but not our Rishis' own concept of evolution, reflected for instance in the Dashavatar sequence. So too, they are exposed to ecology but are not be told of the Indian approach to our sacred earth and Nature, or its reverence for mountains, rivers and trees, countless animals and plants, which resulted in effective conservation in rural and tribal India. They learn the Westminster system of parliamentary democracy, but little of the early Indian republics in the North, or of the meticulous electoral code of Chola kingdoms in the South, both of which ensured greater prosperity and much less corruption than does our present polity. They know Shakespeare better than Vyasa, Valmiki or Kalidasa, and Western classics in preference to the Shilappadikaram or even the Panchatantra. Nor are they made to appreciate how far world civilization is indebted to India in the spheres of science and technology, spirituality and arts, thought and culture. Are all these pioneering advances something we should feel so ashamed of as to conceal them from our children ?
Such an ignorance, perpetuated by an educational system left unreformed since it was imposed on India by her former colonial rulers, is inexcusable and unworthy of a free nation with a cultural heritage acclaimed worldwide — but disparaged at home for petty divisive and political purposes. We deny anyone the right to deprive Indian children of access to those values, which have lost none of their power to fashion a better human being and build national character. All great Indians who fought for the country's freedom — Swami Vivekananda, Sri Aurobindo, Rabindranath Tagore, Mahatma Gandhi, to name a few — noted how "we have been cut off by a mercenary and soulless education from all our ancient roots of culture and tradition" and called on us to "create a complete and moving orb of Indian culture." Such a "true national education," they asserted, is the key to the creation of "a true national spirit" (please see the appendix to the enclosed charter of IFIH). In practice, we have done exactly the opposite of what they expected a free India to do, as if their thought and vision were utterly worthless, and we have reached a point where the average Indian student knows almost nothing of his land's indigenous culture. Indeed, some Western Universities today run more courses on Indic traditions than their Indian counterparts.
We therefore urge you to recommend major changes in the educational system, so that the essential values and roots of Indian heritage born on the subcontinent be integrated in all the disciplines taught in schools and Universities. (Points 7 & 8 of the enclosed charter of IFIH list a few practical suggestions in this regard.) You will be glad to know that IFIH plans not only to produce quality learning and teaching material, but also, as soon as feasible, to design a simple yet comprehensive course on India's heritage — including aspects such as science, yoga and spirituality, arts, education, economics and management, woman, Ayurveda, archaeology, ecology, etc., in a manner that does not add to the burden on students, but would make India's heritage an integral and living part of the teaching and learning process. We also call for the creation of faculties / departments of Indian Heritage within all existing Universities, so as to foster intensive research in and fresh approaches to India's contribution to world civilization.
We do not advocate a return to the past or an unintelligent rejection of all things Western, on the contrary : the best and most modern teaching and learning techniques must be used in order to give new and more living forms to our heritage in the eyes of the younger generations. There lies the key to a constructive modernization of India that will enable her to play her role on the global scene.
Unfortunately, the recent use of slogans such as "Talibanization" or "saffronization" of Indian education has politicized and sought to prevent what should be a sincere, objective national debate on ways to overhaul an educational system that strains the average Indian schoolgirl or schoolboy with an overweight schoolbag, an overburdened syllabus, and a cruelly stressful examination system. It is up to all of us whether we wish to remain stuck with such antiquated contents and methods of education, accepting change only if it comes to us from the West, or listen to saner voices and renew India's contribution to humankind by showing in practice that there is still a door open to it.
We wish your Excellency and our country a happy and fulfilling New Year.
With respectful regards,
(The letter was signed on behalf of IFIH by :)
Swami Dayananda Saraswati
(President, All India Movement for Seva)
Dr. Padma Subrahmanyam
(Director, Nrithyodaya)
Dr. Kireet Joshi
(Chairman, Indian Council for Philosophical Research)
Shri D. R. Karthikeyan
(former Director, C.B.I., and former Director General, National Human Rights Commission)
Dr. Lokesh Chandra
(Indologist and former M.P.)
Dr. Subhash Kashyap
(former Secretary General of the Lok Sabha)
Maj. Gen. Vinod Saighal
(convenor, Movement for the Restoration of Good Government)
Shri P. R. Krishnakumar
(Managing Director of Arya Vaidya Pharmacy)
Dr. T. H. Chowdary
(Information Technology Adviser to the Government of Andhra Pradesh)
Prof. B. B. Lal
(former Director General, Archaeological Survey of India)

<![if !supportEmptyParas]> <![endif]>