<![if !supportEmptyParas]> <![endif]>
<![if !supportEmptyParas]> <![endif]>
Vedas According to Women
A unique movement centred around women priests in Maharashtra
18 July 1999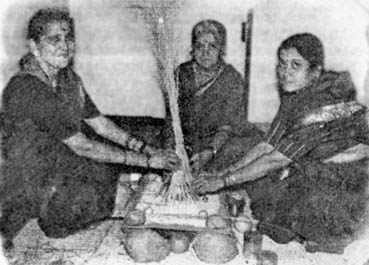 <![if !supportEmptyParas]> <![endif]>
When Shankar Thatte, a Vedic philosopher, and his wife Pushpa began teaching the first batch of women priests at their home in Pune, little did they know that a day would come when the number of women priests would outnumber their male counterparts.
"The children who would come to us to learn the stotras would invariably forget them during their summer vacation, So we decided to teach the mothers, so that they could make their children practise. Also, about the same time, there was an important puja at the Udyan Prasad Karyalaya and we could not get any priest for it as they were all booked. That also led us into thinking that teaching women would be a good idea," reveals Pushpatai, who continued the custom even after her husband's death in 1987.
Starting with a modest group of 16 housewives, the number of women priests toady has risen to 6,000, spread over the state to places like Mumbai, Nashik, Nagpur and Satara. And from learning mantras and shlokas for the sake of the children, these women have graduated to performing complicated and extensive yagnas in a professional capacity outside their homes.
"In the initial years, mama Thatte would accompany us or we would go in pairs to perform pujas as we were unsure of the reaction of the people on seeing a woman pandit. But, fortunately, almost all the reactions were positive," says Vasanti Khadilkar, a student of one of the first few batches, who now teaches other women priests. In fact, the representatives of the first few batches even went to Germany and England in the 1970s to demonstrate their liturgical prowess to the Indians settled there. They were met with an equally, if not more, encouraging response.
And it has had its telling effects. "With the emergence of women priests in Maharashtra, there has been a gradual preference of women priests over their male counterparts." Also, rather startlingly, there has been a sharp reduction in the number of men priests in the state; in fact, women priests actually outnumber them today, says V. L. Manjul, chief librarian, Bhandarkar Oriental Research Institute, who has done extensive research in the field and presented these findings in his paper, "Changing Patterns of Priesthood in Maharashtra."
"While initially it took some time for society to accept the change, soon, it became obvious that women priests appeared more dedicated, sincere and patient than their male counterparts while performing pujas. They would take greater pains to explain the meanings of all the shlokas and are definitely less greedy when it comes to dakshinas. This has helped increase their popularity," he adds.
The most important thing I have taught my pupils is that this is not something one should do for money. Whatever dakshina we have taken for the pujas performed have been given voluntarily by the people," says Pushpatai Shenolikar, who has trained some 1,080 women priests in Panvel in the past 10 years."
A survey of Vedic and Sanskrit pathshalas by Manjul revealed that in the past 10 years, fewer and fewer boys were enrolling in these schools. "The presence of women priests had a direct effect on both their standing and earnings, making this a less attractive and lucrative career for men, leading them to opt for other fields," he explains.
But along with accolades, there has been dissent too. Orthodox male priests and religious leaders have not hesitated to say that the practice is against religious sanctions. The argument is that the ritual of munja (thread ceremony), performed on all boys during their early years, is a vital element of priesthood. According to these critics, with most women coming into the profession in their middle age and sans the munja, they are not qualified to be priests.
Even now, women priests have not been encouraged to perform funeral rites. Manjul says some years back, a woman priest did perform such a rite in Pune, but it created such a furore, that nobody takes any chances any more. While the criticism has not really affected the spread of the phenomenon, with its supporters pointing out that there is no mention in the Vedas that women cannot be priests, the panditas have decided to henceforth do the thread ceremony for the new generation of women priests. "That would take away the last shred of doubt about our work," says Neela Mehendale, a purohit since the past 10 years who performs the Gajanand Abhishek every Thursday at Pune's Gajanan Maharaj Mandir.
Anna Leutgeb, an Austrian who came to Pune to do research on the importance of muhurat in Indian life, is so impressed by the phenomenon that she has made it the subject of her thesis. "Abroad, the impression is that Indian women are a totally suppressed lot, who have to give in to child marriage and sati. The women priests totally contradicted this impression. In fact, they had done something women abroad have not been able to do¾become priests in the church. According to the Roman Catholic church, women can only assist the priest. So it was interesting to find Indian women breaking these shackles," says Leutgeb.
The role of the women priests is summed up best by Shenolikar who says: "We are fulfilling a critical need of society. With the decrease in the number of male priests, it is the women priests who are fulfilling the demand. Many of us end up performing two to three pujas every day."
And as Udyan Karyalaya comes alive every evening with chants by women priests, it is an ode to a modest movement that began in a little house in Pune 25 years ago.
<![if !supportEmptyParas]> <![endif]>
<![if !supportEmptyParas]> <![endif]>

<![if !supportEmptyParas]> <![endif]>